September 14th 2015 FedEx Forum in Memphis Tennessee
[WARNING THE FOLLOWING CONTAINS SPOILERS]
Welcome to CM Punk House #1, the first installment in my (almost) weekly review/recap of Monday Night Raw. I'm going to try to pump these out every week that I can.
Let's take a moment to address the elephant in the room, or lack thereof. CM Punk is NEVER coming back to WWE. As much as we all want a return it is never going to happen. TBH I still want it to happen. This column is titled CM Punk House just because I think It's funny and for no other reason. I will try to keep CM Punk talk to a minimum. I'm pretty much going to talk about CM Punk every chance I get.
Tonight was a huge slap in the face to CM Punk as his wife AJ's record title reign was broken, but we'll get to that later.
Raw starts with an Authority Promo and TBH I spaced out a little. Spacing out is going to happen a lot. I multitask while I watch Raw. One of my favorite things about Raw is that I don't have to pay attention the whole time. I can watch most of it and still make a fair assessment of the show. It's also a three-hour show, so cut me a little slack. Somehow I managed to pay attention long enough to hear Triple H announce Sting vs The Big Show as tonight's main event.
The NEW season then goes on to start with a NEW Day as The New Day takes on The Prime Time Players for the WWE Tag Team Championship. The winner of this match will go on to defend the titles at Night of Champions (NOC) against The Dudley Boyz. The New Day was literally on fire tonight *insert series of fire emojis* their outfits tonight were literally flames.
The New Day won this match to my delight. They are probably the most over thing in pro-wrestling after John Cena. At one point the crowd broke out in a "New Day Sucks/Lets Go New Day" dueling chant. I'm not ashamed to say I'm a New Day fanboy. This column might end up being called New Day House. I just don't know how anyone can not cheer for New Day.
The New Day ends their celebration with a stare down against The Dudley Boyz. Can you still be Boyz in your 40s? Not Important. The Dudley Boyz are a legendary tag team and The New Day is the only team on the roster anywhere near their popularity. Their match at NOC should be a highlight.
Paige vs. Sasha Banks is next. Sasha Banks wins. I hope Sasha Banks continues to rack up wins and works her way up to a Divas title match. Sasha proved how great she is in NXT and I'm excited to see here on top of the main show Diva's division 😉 . Sasha + New Day = ❤
Next we have Miz TV with the Wyatt Family. I was in and out of the room for this but I heard ROMAN REIGNS cuss. This is a PG show guys. Roman Reigns is not only strong but he's also edgy. I'm looking forward to The Wyatt Family vs Ambrose and Reigns +1 simply because of the surprise element. But please god let the 3rd man be anyone BUT Barron Corbin. JK I'd prefer Barron Corbin over The Big show.
The following match was Cena vs. Sheamus. I checked out for this one but CENAWINSLOL?
Ryback cut a really awkward promo where he sang ,was wearing civilian clothes and just overall looked more hilarious than he usually does. Ryback's great because he's a huge doofus who likes to eat. Kevin Owens comes out and disses The Secret (Ryan Reeves aka Ryback is known to attribute The Secret to his success). Kevin Owens is the best pro wrestler hands down. He knows how to push people's buttons. I really enjoy how he brings aspects of reality into his mic work. This feud hasn't had much build but I'm confident Owens can carry a decent match with "Da Big Guy" at NOC.
Stardust w/ The Ascension and Neville and Lucha dragons brawl but it was so quick I probably should be quick to discuss it. It sort of felt like this segment was in fast forward. I like these teams. WWE should have a trios tournament.
Now onto the segment that lets me talk about CM PUNK! Charlotte vs Nikki Bella for the Diva's Title. It's been pretty acknowledged across the internet that Nikki Bella has only kept the championship this long to beat AJ Lee's record title reign. If anyone reading this lives under a rock or just isn't in the know, I got you. You see, AJ Lee is CM Punk's wife. CM Punk and the WWE hate each other. They used to be bros but now WWE basically fucked CM Punk's wife, and you know Bros don't fuck other Bros' wives. That's not why the beef started though. If you don't know the dealio listen to Colt Cabana's podcast with CM Punk where he talks mad shit.
The situation is set up so that if Charlotte beats Nikki Bella, Nikki will not break Aj's record and not have a "Bellabration". Charlotte appears to have won and canceled the "Bellabration", but it turns out she pinned Brie Bella and not NIkki. Stephanie Mcmahon comes out and cancels the cancellation of the "Bellabration." THE BELLABRATION IS BACK ON. Except for CM Punk. I know CM Punk is not bellabrating.
Rusev vs Cesaro was decent. Dolph Ziggler cost Russev the match with a distraction. Shit is getting really weird with Rusev, Summer, and Dolph. Is anyone enjoying this? They are great workers but the love triangle thing is confusing me. I hope Dolph ends up with Rusev.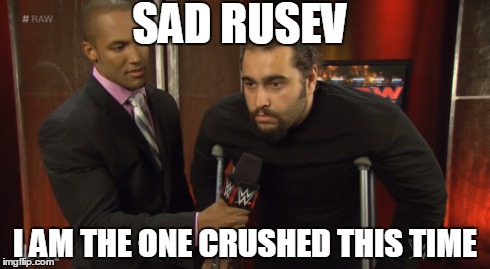 ALRIGHT MAIN EVENT TIME.
Sting vs Big Show starts off okay. They're both really old and it's questionable if Sting can still go. Seth Rollins interrupts and then it becomes a 2 on 1 assault until JOHN CENA comes to save the day. Triple H turns it into a tag team match playa. Cena and Sting vs Big Show and Seth Rollins. Sting and Cena win and Sting  didn't have to work as hard.
Honestly this wasn't a bad Monday Night Raw. I'm worried about writing this blog in the future because some weeks can be atrocious. I might change the format to cover just my favorite segment.
I'm giving tonight's show 7/10 Ultimo Dragon Titles.